By Gary Farrow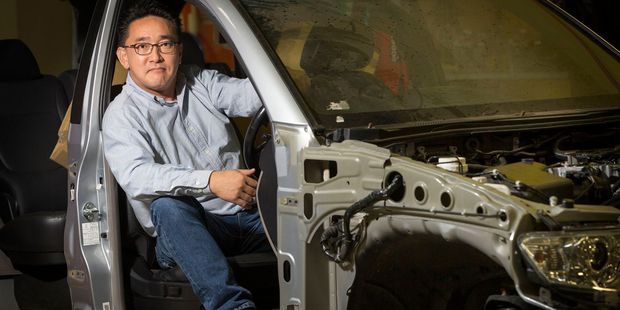 Back in March, our regular columnist Steven Walton posted an article on the problem of foreign drivers being involved in accidents on New Zealand roads. Researchers at Wintec are working on the problem from an engineering perspective. 
The engineering faculty at Wintec has made some interesting findings in a recent study about overseas drivers, driving behaviour and crashes on New Zealand roads.
The study was carried out in 2016 and gave insights into issues that highlight the need for new policy to reduce road incidents.
"When we read the newspapers, there are so many rumours rather than facts," said Dr Hyun-Chan Kim, a Wintec researcher and academic staff who spoke to Hamilton News.
"People think, 'That guy's an overseas driver – he's irresponsible,' and blame him, because there hasn't been any scientific or logical analysis."
Dr Kim said as civil engineers, the faculty at Wintec wanted to find out the facts, allowing road safety to be improved through proper understanding.
He pointed out the end result would not only be the prevention of injuries and deaths, but help in protecting New Zealand's valuable tourism industry.
New Zealanders who have lost loved ones in road fatalities have been petitioning the government to enact new policies affecting drivers from overseas, Dr Kim said, but the government is hesitant in taking too much action as it doesn't want to harm tourism or political relations.
The results of Wintec's research are consistent with data collected from 2328 crashes related to overseas drivers from 2010 to 2014 extracted from the NZ Transport Agency (NZTA) Crash Analysis System.
"So, why do people who come to New Zealand cause accidents?" he asked.
He said some of the key factors included that New Zealanders drive on the other side of the road to much of the rest of the world, and tourists are also often fatigued when they travel from far away.
"Typically tourists are getting off a long flight and straight into a rental car and they are fine for a while, but then fatigue sets in, they tire and this is when accidents can happen," Dr Kim said.
But the study also found that while 4.5 million tourists visit New Zealand every year – nearly as much as the population of the entire country – only 1.1.4 per cent of road crashes in New Zealand are caused by tourists.
"That means close to 99 per cent of accidents are caused by New Zealand drivers. The problem is the accidents tourists are involved in are statistically worse. We're talking about head-on collisions often on rural, scenic roads," he said.
The research identified drivers over 30 years old as having a tendency to feel fatigue affected their driving driving performance.
This often happens once the driver is well out of the city and driving down rural roads, Kim said.
It was also found many Asian drivers faced difficulty working with roundabouts as they are rare in their home countries.
New Zealand's weather and open road conditions were also a significant factor.
Dr Kim worked with two of his engineering students to conduct 205 interviews with overseas drivers at Auckland Airport and i-Sites along tourist routes to gather the survey data, but added that a wider ranging study would render the statistics even more enlightening.
Dr Kim and David Zhang, a former BEng Tech (Civil Engineering) student who graduated from Wintec in 2016, launched the results of their research at the Institution of Professional Engineers New Zealand (IPENZ) Transportation Group conference in Hamilton earlier this month.
It will also be presented at the 12th Eastern Asia Society for Transportation Studies (EASTs) conference in Ho Chi Minh City in September.
Dr Kim is hopeful that practical solutions will come from the research to make roads safer, and cut the misconceptions about tourist involvement in crashes.
SOURCE: Hamilton News/NZ Herald