Huia Shortland has always wanted to take music seriously and make a career out of it.
The 14-year-old from Te Kapehu Whetu Teina school may be on track to do just that after winning the solo/duo title at the Smokefree Rockquest Northland regional heats at Forum North on Friday as a solo act, a year after winning it as part of a duo.
"I was kind of shocked, surprised," said the young singer.
Despite last year's success – she won the national Smokefree Pacifica Beats solo/duo title with her cousin Izaia Tilialo, who has now left school – Huia didn't think she had much of a chance of winning this year.
"It would have been a hard chance because there were so many good people."
Huia said performing on her own came with more pressure and more nerves but she enjoyed it.
Her experience last year had helped this year, she said. "Definitely, it gave me a confidence boost, it exposed me to the process of Rockquest."
She said the original song she performed on Friday night, called Jealous, was very different from what she did with Izaia last year.
"This year it was more light-hearted and upbeat than what I did last year."
Rodney College's Mollie Harvey came second and Dani Ngakuru-Smith from Tauraroa Area School came third. These three now put 15 minutes of their best material together to submit for selection as national finalists.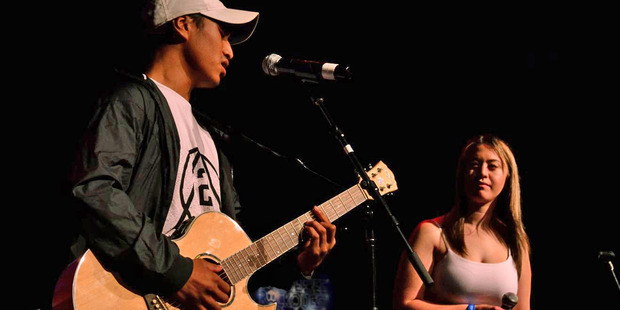 Whangaroa College's Barry & Te Rina won the Smokefree Pacifica Beats Northland competition and will also submit 15 minutes of material for selection as a Pacifica Beats national finalist.
A spot in the Northland Smokefree Rockquest regional final was also on the line for the best 12 bands on Friday.
They will do battle on July 1 for the top two places and the chance to move on to the next round.
The bands who will compete in the final are: H.K.A from Broadwood Area School and Panguru Area School, Weevils from Rodney College, Jinx from Springbank School, Denial from Kerikeri High School, Mad Gravity from Whangarei Girls High School and Huanui College, The Pastie Boys from Tauraroa Area School, Theoretically Impossible from Kerikeri High School, LIVEWIRE from Mahurangi College, A08 from Kamo High School, Room 44 from Whangarei Girls High School, Mic's Mates from Huanui College and JKA zzz from Te Kura Kaupapa Maori o Te Tonga o Hokianga.
By Danica MacLean
SOURCE: NZ Herald/Northern Advocate