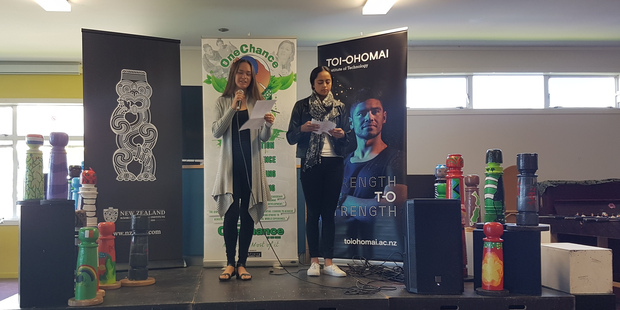 There was excitement and anticipation in the air as the finalists for the 12 categories in the OneChance Youth Awards 2017 were announced. The awards honour outstanding youth from across several fields in the Rotorua region.
At an event held at the Rotorua Youth Centre today, the 36 finalists, chosen from 125 nominations, were named.
Tickets for the event's celebrations, to be held at the Sir Howard Morrison Performing Arts Centre on Friday, May 26, will go online tomorrow at www.onechance.nz.
The tickets are free but people must register.
The finalists are:
Chris Bell Dental – Most Outstanding Youth Performance Group
Oxygen – Elim Church Youth Band
Klassic G – Six piece band
Raukura – Kapa haka group
Sir Howard Morrison Performing Arts Centre – Most Outstanding Youth Performer
Adrian Forbes, 18, Musician
Liam Dixon, 16, Aspiring actor
Ellis Carrington, 18, Classical singer
New Zealand Maori Arts & Crafts Institute – Most Amazing Visual Youth Artist
Lalanya Mansell, 16, SPFX Make-Up Artist
Kathleen Ashley, 19, Costume designer
Sidney Tamati, 17, Artist
FLAVA – Most Outstanding Sports Team
The Pr3zzys, Hei Matau Mens Waka Ama
Pikiao 15s Rugby League team
JPC 1st VX Rugby team
Rotorua Lakes Council Sport and Recreation – Most Outstanding Sports Athlete
Manaaki Te Kowhai ,18, Waka Ama
Ana Nagera, 16, Swimming
Connor Mahuika, 17, MTB
Elite Adventures – Most Outstanding Youth Employee
Hone Morris, 17, Youth Co-ordinator at Fordlands Community Centre
Ana Nagera, 16, Swimming Trainer at NZ Swimming
Kassara Boaza, 21, Administrator and YouthHub Navigator at the Rotorua Youth Centre
Rothbury Insurance – Most Outstanding Community Youth Ambassador
Pita Helu, 17
Rakaea Te rangi Trotmen, 15
Greagh Love, 19
Rotary Rotorua North – Youth Services Icon Award
Annette Rose Nahu, Manager of Central Rugby League Inc
Jason Kameta, Youth Rugby League coach
Maylene Meroiti, Netball matriarch
Industry Training Solutions – 'X-Factor' People's Choice Award
Kesia Mary Kurian, 17
Liam Dixon, 16
Anahera Teinakore-Curtis, 17
Te Wananga o Aotearoa – Most Awesome Youth of the Year
Madelyn Skilton, 18
Kesia Mary Kurian, 17
Tipene James, 18
Rotorua Multicultural Council – Youth Cultural Leader of the Year
Joape Nagera, 16
Eamon Walsh, 17
Te Rua Wallace, 20
Toi-Ohomai Institute of Technology – Supreme Youth Leader of the Year
Eamon Walsh, 17
Chantelle Cobby, 18
Madelyn Skilton, 18
SOURCE: NZ Herald/Rotorua Daily Post