By Melissa Hoyer
Jeans are usually a fairly predictable wardrobe proposition. You eventually find the shape, label and colour that usually suits you and sure, sometimes we're overwhelmed with choice … but finally we get there and go home with a pair that you often can't live without.
Shame the same can't be said for these plastic, knee-panelled example of complete and utter fashion craziness.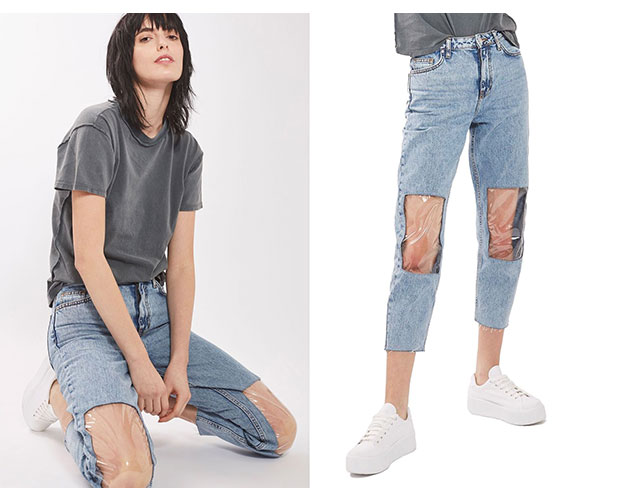 Don't get me wrong, I love a bit of fashion crazy. A mushroom perm in the late 80s proved that point entirely. But you have to draw the line at plain kooky/ugly/crazy.
There doesn't seem to be one redeeming feature about these windowpane knee wonders.
"Mum"-style jeans (just think Kath & Kim's Kath Day-Knight and you get the picture) are a hard sell at the best of times.
While there has been an upward swing in the "rise" (aka of the height of the front and the length of jean's zip or fastenings) in the past few seasons, there is a fine line in making them look, well, young and fresh and not too 'mumsy'.
Enter Topshop – that affordable bastion for all fashion things relevant and, umm, on-trend – who are either taking the absolute style piss or honestly think their Moto Clear Patent Mum Jeans fit some kind of "cool" fashion criteria.
The "comfy-fit", tapered, pocketed jeans may be a tad healthier than the mega tight ones that are also currently causing a style stir but these distressed denim wonders – there's an 80s throwback trend right there – feature two delightful, clear plastic panels halfway down the cropped leg, just in time for our nobbly/awkward/bulbous/discoloured/even hairy knees to get a lovely outing.
But it's not a particularly attractive outing. Isn't it a shame that one of the plainest, if not clunkiest parts of our legs has been given a visual stage, a shop window if you like to show off their wears. But why, oh why?
Imagine on a hot and steamy day, when those very clear "futuristic" plastic panels start getting a little hot and misty? Or when you need to get down on your knees (get your mind out of the gutter please) to do something, anything, from picking up your kids from the playpen to literally getting on your knees to get something out of a cupboard.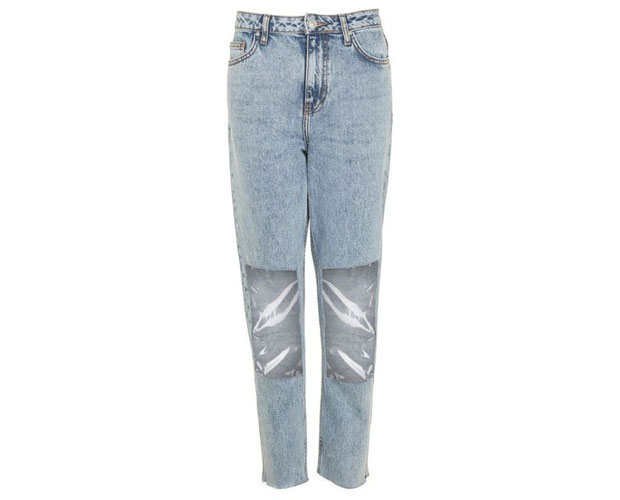 Seriously, the whole style and concept of these are just so many shades of wrong.
Of course there will be fans of these "mums". There will be a crew of cool-school, self-anointed fashion-squad members who will throw them on with a mega Louboutin heel, some fresh-coloured fishnets underneath, get it up on Insta and voila! A cult fashion trend will be born and any animosity toward them will be proven wrong.
Personally, I'm still trying to wrap my head around the washing-of-them situation. You'd have to definitely forgo the hot water and major rinse cycle for fear of ending up with a few shrunk panels.
Topshop and Nordstrom are promoting and selling them for around $95 a pop.
While the majority of (social media) reviews haven't been particularly kind, a small spoonful have. "No more lonely kneecaps!," one comment says. "Never going back to normal jeans," says another.
Meanwhile over in Twitterville, the sceptics are well and truly out. "What fresh hell is this?" said @UnaLaMarche and with that, I think we pretty much get the picture as to where most of these jeans will end up.
Hello sale bin!