Information and communication technology, trade and services, and manufacturing, transport and logistics were found to be the industries with the most job opportunities in February.
The average advertised salary for a job in technology services was cited as $92,700, $59,423 for trades and services and $66,805 for manufacturing, transport and logistics.
Tech remained the top hiring industry for Auckland and Wellington for the month.
The Auckland region alone netted a 19.2 per cent year-on-year increase on advertised job opportunities. Wellington job ads were up 11.8 per cent.
Canterbury job ads dipped 2.6 per cent year-on-year.
Seek New Zealand general manager Janet Faulding said increased job advertising in February was fuelled by a solid job ad uplift across the country.
"February was a great month to be a job seeker in New Zealand, because there was strong year-on-year job ad growth across several large employing industries on Seek beyond ICT," she said.
Job advertising in manufacturing, transport & logistics increased 26 per cent, healthcare and medical 23 per cent, the trade and services sector was up 18 per cent and the construction sector up 12 per cent.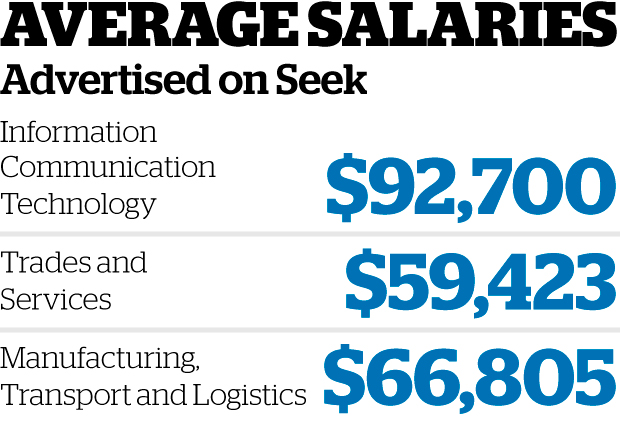 Industry focus
At a national level, job ads for human resources and the recruitment industry grew 32 per cent compared to a year earlier.
Human resources and recruitment professionals were found to be in high demand and the average advertised annual salaries started from $69,597 and ranged to $91,825.
The national average annual salary for HR and recruitment is $81,893.
Annual advertised salaries:
• Information and communication technology – $92,700
Auckland:
Developers and Programmers – $92,927
IT Business System Analysts – $92,202
Help Desk and IT Support – $55,995
Wellington:
Developers and Programmers – $93,751
Programme and Project Managers – $105,277
IT Business/System Analysts – $89,792
• Trades and services – $59,423
Canterbury:
Electricians – $66,721
Automotive Mechanics – $61,179
Labourers – $28,821
• Manufacturing, transport and logistics – $66,805
SOURCE: NZ Herald